Vision and Leadership at the Heart of the Great Bear Rainforest
posted by: Administrator, May 3, 2012 at 11am
One of the most meaningful aspects of my work as senior campaigner on the Great Bear Rainforest is getting to know the communities within the rainforest region, and the individuals who significantly contribute to their collective wellbeing.
One such individual is Larry Jorgenson, who has lived for over thirty years in the Heiltsuk First Nation community of Bella Bella, at the heart of the Great Bear Rainforest. As I have gotten to know Larry, his family, and those touched by his passion and work for bettering the lives of youth and community members, I have come to deeply respect who he is and what he has done for the community.
When last fall I came across a BC Achievement Foundation application form to nominate outstanding community leaders, I naturally thought of Larry. With the help of community supporters of his work, we undertook the nomination process as a team. A few weeks ago I was notified that Larry had indeed been awarded a BC Community Achievement Award, and last week at Government House in Victoria, myself and those in attendance feted Larry and his impressive cohort of BC community leaders chosen from hundreds of nominees.
Over the past three decades, Larry has made important contributions to the community in the areas of culture, environment, healthcare, education, civic duty, business innovation, community volunteerism, and youth engagement. It is his work with youth in particular which, to me, has been outstanding. Through his founding and visionary directorship of the successful, community-driven non-profit Qqs Projects Society, Larry has reached a generation of Heiltsuk people who have learned the importance of cultural and environmental stewardship, and who have developed an ethic to match that passion.
Greenpeace has had a longstanding collaborative relationship with Larry, spanning more than a decade. I have known him for just over three years; however, from my earliest involvement with Greenpeace, it was made clear to me the value of our relationship with Larry and his community. The Heiltsuk Nation's territory lies in the heart of the Great Bear Rainforest, and Larry's work has been central to their increased environmental, social and cultural well-being. He is a passionate, caring community leader who constantly gives of himself so that the community may prosper with hope and resilience.
His work has empowered strong collaborative partnerships that have enriched Greenpeace's work. It is clear from our institutional history that Larry has made significant contributions both in protecting sacred and sensitive areas from industrial development, and in being an effective advocate for sustainable community economic development. These values as it happens also underpin the Great Bear Rainforest Agreements.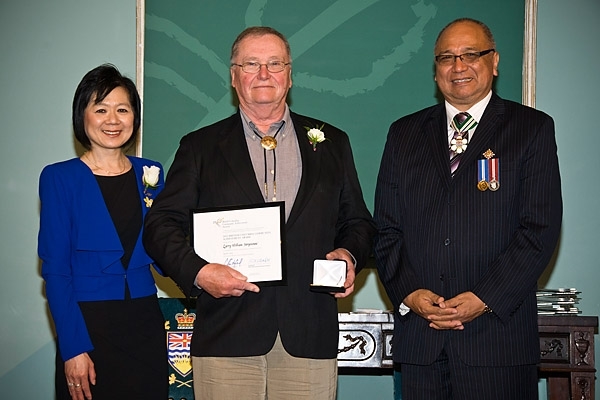 Over a dozen members of the provincial legislature were in attendance at the award ceremony itself, along with the Honourable Ida Chong and other dignitaries whose presence indicated to me the respect given to these award-winning community leaders. Each nominee was called up for their medallion, received from Lieutenant Governor Steven Point of the Sto:Lo Nation. Several government representatives in attendance, including the Honourable Steven Point and MLA Gary Coons, had first-hand experience of Larry's work in Bella Bella through visits and collaborative partnerships, and it was inspiring to see the community resilience in Bella Bella celebrated by Government House and the BC Legislature.
There is a small write-up that was read out to the audience of Larry's contributions and you can find it here. There is also another account with photos of Larry and family and friends on the Qqs blog, as well as the press release, which I recommend for further information.
I would be remiss at this point if I didn't mention that while Larry's contributions are many, there are those community members who have worked ceaselessly with him and supported him as family, that in a way, are also winners of this award. It may take one individual with vision, but many to carry out the hard work of making the vision real. Larry understands this, and mobilizing a network of supporters who share his vision has been the foundation of his achievements in the community.
It must be said that progressive individuals like Larry recognize that people and place are intimately linked; such values underpin his work for his local community. Larry's approach to community development is unique and refreshing: through strong collaborations, he has seeded a holistic approach that blends conservation, culture, and economic opportunity to nurture his community.
It was an honour to put his name forward for a 2012 British Columbia Community Achievement Award, and to uplift him for his tireless work to make his community a place of progress – and a place of hope. Stories like these add to the richness and magnificence of this very special place in the world, the Great Bear Rainforest.
Originally published at: http://www.greenpeace.org/canada/en/Blog/vision-and-leadership-at-the-heart-of-the-gre/blog/40222/