The Great Bear Rainforest puts B.C. on the map
posted by: Administrator, February 7, 2012 at 4am
By Eduardo Sousa (Greenpeace), Jens Wieting (Sierra Club BC) and Valerie Langer (ForestEthics)
As human populations have grown and unsustainable large-scale economies have taken root, most of the earth's temperate old-growth rainforests have disappeared. A rare ecosystem covering less than one per cent of the planet's landmass, few of the remaining old-growth temperate rainforests are unlogged.
The Great Bear Rainforest, together with Haida Gwaii, is the largest, mostly intact coastal temperate rainforest left on the planet. It stretches along more than two-thirds of British Columbia's coast and is the traditional territory of First Nations who have lived in this rainforest for thousands of years. At 6.4 million hectares in size, it is an area larger than Switzerland, framed by the dramatic coastal mountains that feed verdant river valleys flowing to the fjords and island archipelagos of B.C.'s Pacific coast.
The history of First Nations in the Great Bear Rainforest extends beyond human memory, with archaeological evidence dating settlements from before the end of the most recent Ice Age, more than 14,000 years ago. Today, the region remains home to dozens of First Nations peoples whose histories, identities and spirituality are inextricably linked to the lands and waters of the rainforest. The total population of coastal First Nations is estimated at 18,000 to 20,000, which is over half of the population of British Columbia's Central Coast and over one-third of the population of the North Coast and Haida Gwaii.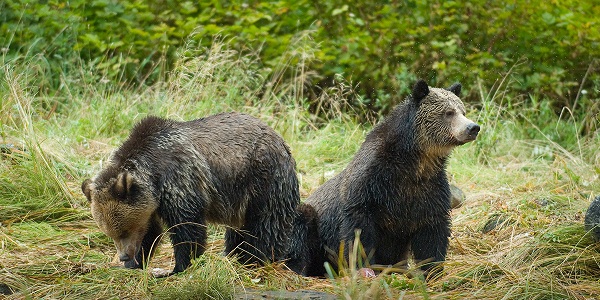 Photo: Andrew Wright
For thousands of years, the Great Bear Rainforest has also been the home of some of the rarest creatures in the world, including the Kermode or white 'spirit bear'. Other species include grizzly bears, marbled murrelets, northern goshawks, mountain goats, coastal wolves and wild salmon. It's with good reason that many refer to the Great Bear Rainforest's dense web of natural life as 'Canada's Amazon'.
Coastal temperate rainforests in British Columbia contain some of the largest stores of carbon per hectare of forests anywhere in the world. Increasing protection of the Great Bear Rainforest is one of the most effective actions we can take to prevent carbon loss and increase carbon storage, and is as essential as preserving Australia's Great Barrier Reef and Brazil's Amazon rainforests. We need the Great Bear Rainforest in order to allow some of the most magnificent species on our planet, who live right here at home, a fighting chance to adapt to a changing climate. As extreme weather and climate change take a stronger hold of our world, the value of protecting old-growth forests cannot be overstated.
Check out some incredible photos of the Great Bear Rainforest, taken by the International League of Conservation Photographers.