A Forest Like No Other
posted by: Administrator, April 3, 2012 at 10pm
by Jens Wieting, Valerie Langer, and Eduardo Sousa
This is the second article in a three-part series on Canada's Great Bear Rainforest. February marked the six-year anniversary of the Great Bear Rainforest Agreements, which were celebrated around the world as one of the greatest rainforest conservation stories of our time. To this day, however, half of the Great Bear Rainforest is still open to logging. Greenpeace, Sierra Club BC, and ForestEthics have launched a campaign calling on B.C. Premier Christy Clark to speed up the outstanding steps for healthy forests and thriving communities, before it's too late. The first article in this series discussed how the Great Bear Rainforest (or "Canada's Amazon") is still at risk. This second article describes what makes the Great Bear Rainforest so significant – and worthy of full protection.
A narrow band of land and sea stretching along the central and northern coast of British Columbia, the Great Bear Rainforest is one of the largest, mostly intact coastal temperate rainforests remaining on the planet. Here, 1,000-year-old red cedars stand as tall as 20-storey buildings. Below the treetops, a thick moss-and-fern understory blankets the forest like a neon snowfall. Spirit bears, a white-furred version of black bears whose only home on the planet is within the Great Bear Rainforest, move calmly along the rivers in search of wild salmon – ghostly flashes of white against a dense green backdrop.
But with its verdant river valleys and old-growth cedars, the Great Bear Rainforest isn't just rare and beautiful – it also provides a home to endangered species, resources that fuel our economy, and tools for fighting climate change. All of these important features make the Great Bear Rainforest a compelling and controversial place that continues to capture imaginations (and headlines).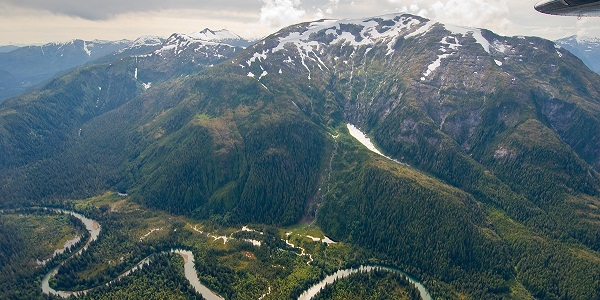 Photo Credit: Andrew Wright
Temperate rainforests are defined by rain and mild temperatures, as well as their close proximity to mountains and ocean. But it's hard to understand how intimately connected the forest and sea are in the Great Bear Rainforest without looking at a map. Freshwater rivers run like veins from the coastal mountains, down valleys that merge with the saltwater fjords. It's at these meeting points, called estuaries, where you'll find some of the most biologically rich environments in the world. Birds like the northern goshawk and marbled murrelet, the spirit, black, and grizzly bears, and wolves from deep in the forest feed on the fish, shellfish, and plants that grow here. After spending years in the open ocean, many wild salmon species spawn in the estuaries, while others travel further up the rivers to lay their eggs. It's with good reason that many refer to the Great Bear Rainforest's dense web of natural life as "Canada's Amazon" (and think it's equally worth protecting).
Spanning 6.4 million hectares, or an area significantly larger than Switzerland, the Great Bear Rainforest is also the traditional territory of First Nations who have lived here for thousands of years. Their history extends beyond human records, with archaeological evidence dating settlements from before the end of the most recent Ice Age, more than 14,000 years ago. Today, the region remains home to dozens of First Nations peoples whose histories, identities, and spirituality are inextricably linked to the lands and waters of the rainforest. The total population of coastal First Nations is estimated at 18,000 to 20,000, which is over half of the population of British Columbia's Central Coast and over one-third of the population of the North Coast and Haida Gwaii.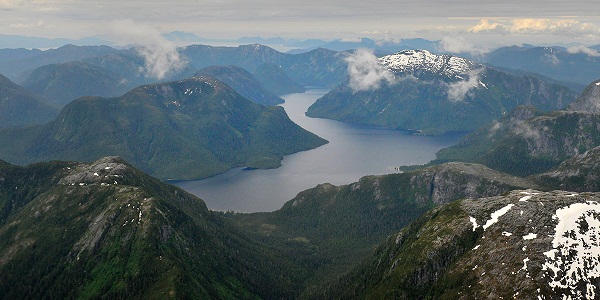 Photo Credit: Andrew Wright
The First Nations of the Great Bear Rainforest rely on it to drive their local economies, which are supported by fishing, ecotourism, and forestry, among other industries. But the old-growth trees of this rare forest have also lured others. Logging has long been a dominant industry in the Great Bear Rainforest, which used to be officially called the Mid-Coast Timber Supply Area. Industrial logging actually threatened to destroy most of the accessible old-growth forests in the region until the provincial government, First Nations, industry, and environmental groups agreed to a landmark conservation strategy for the area in 2006. While progress has been made on that commitment, it still isn't fully implemented, leaving much of the forest at risk.
The trees of the Great Bear Rainforest are worth more than their value as timber. Temperate rainforests are second to none in the world in terms of carbon storage per hectare of forest. As humans scramble to reduce carbon emissions and create technologies that don't depend on burning fossil fuels, forests like the Great Bear Rainforest provide a natural tool in the fight against global warming.
Temperate rainforests are one of the most rare ecosystems on Earth, covering less than one per cent of its land mass. The Great Bear Rainforest makes up a significant portion of what remains intact, making British Columbia home to one of the largest rainforests of this kind. That's why so many British Columbians, and others around the globe, have stood up to safeguard it. Will you join us? Take action at http://www.takeittaller.ca.
First published at: http://www.themarknews.com/articles/8353-a-forest-like-no-other