Vancouver, BC Artist Wins 'Great Bear's Got Talent' Contest
July 11, 2012
Selection Committee Includes Canadian Icon Robert Bateman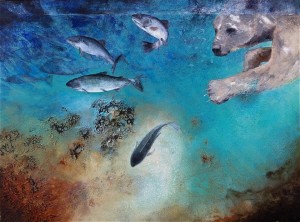 (Vancouver, BC) – A selection committee, including famed Canadian wildlife artist Robert Bateman and Kitasoo-Xai'Xais First Nation photographer Doug Neasloss, has selected British Columbia artist Laura Wasylyshen and her work "Spirit in the Water" as the winner of the Great Bear's Got Talent contest. Ms. Wasylyshen will receive a one-week donated trip for two valued at $6500 to Spirit Bear Lodge – spiritbear.com – in the heart of the Great Bear Rainforest.
"The selected entry has a talented painting style and serves as a powerful reminder of the wild beauty of the Great Bear Rainforest, a place that clearly evokes a tremendous amount of love and respect given the popularity of this contest," said Robert Bateman.
The very popular online contest was run by TakeItTaller.ca, an initiative of ForestEthics Solutions, Greenpeace and Sierra Club BC. The contest was designed to help promote the protection of the Great Bear Rainforest, and has attracted original works of art from all over the world and many from BC. Entries included a larger than life-size driftwood sculpture of a spirit bear, folk music, wildlife photography and even a fire dance. Entries can still be viewed at TakeItTaller.ca/blog. The contest attracted close to 2000 votes and added to the more than ten thousand people who have signed a petition asking the BC government to end delays and to finish the conservation agreements announced in 2006.
"This contest reveals how much people around the world and especially British Columbians adore the Great Bear Rainforest," said Greenpeace's Eduardo Sousa. "We hope to be able to showcase many of the original artworks in the near future so that British Columbians have the chance to experience this outpouring of love and respect for the forest."
Sousa added that great strides have been made with 50 per cent of the natural level of old-growth forest now off limits to logging, but that falls significantly short of the Agreements' goals. The independent science that underpins the agreement is clear that at least 70 per cent needs to be conserved. Otherwise, the rainforest risks further ecological decline. Equally important to the agreements are commitments made toward increasing levels of well-being in First Nations communities who call the region home.
"We are hopeful the BC government will listen to the growing number of voices asking for the completion of the agreements, which is a long time coming," said Sousa.
For more information, please contact
Eduardo Sousa, Senior Forest Campaigner, Greenpeace, (778) 378-9955
Laura Wasylyshen, Vancouver-area artist and winning entry, (778) 809-4001