Protection sought for full rainforest
July 20, 2012
10,000 sign scroll calling on B.C. to fulfil preservation agreement
A scroll of signatures snaked down the steps at the legislature Thursday as environmental groups called on the government to complete the promised protections for the Great Bear Rainforest.
"More than 10,000 people have signed up to ask the government to get the job done and soon," said Eduardo Sousa, a forest campaigner with Greenpeace.
"That speaks volumes about what this special place means to people."
Although most British Columbians believe that the 70,000-square-kilometre Central Coast rainforest is protected under 2006 and 2009 agreements between the province, First Nations and forest companies, only 50 per cent actually is – and that's not enough, said Jens Wieting, Sierra Club forest campaigner.
"The pace continues to be slow, and vigorous leadership is required. We need this wrapped up before [the provincial election] in March 2013," Wieting said. "We are not seeing the premier or government making this a priority."
The agreements set a target of preserving 70 per cent of natural old-growth ecosystems, he said.
"The science is very clear that we need 20 per cent more," Wieting said.
"If we wait much longer, we are losing the opportunity to protect the Great Bear Rainforest as we know it. The less old-growth and more second-growth there is, the more time is needed for ecological recovery."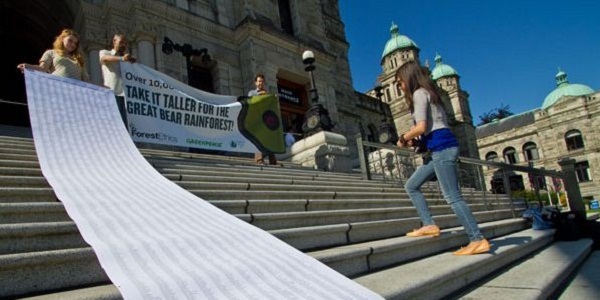 Photo Credit: Darren Stone , timescolonist.com (July 2012)
Forests Ministry spokesman Brennan Clarke said in an email that the province supports a quicker timeline, but it takes time to address all the unresolved issues.
In March 2009, all parties agreed to a five-year implementation plan and the province is continuing to work with First Nations, forest companies and environmental groups, Clarke said.
"However, the B.C. government is only one of the parties at the table," he said. "There have been discussions about accelerating the timeline by one year, but, for that to happen, all parties, including Coastal First Nations and the Nanwakolas Tribal Council, would need to endorse an accelerated timeline."
Only about nine per cent of the area, about 590,000 hectares, is open to logging and the most ecologically sensitive methods must be used, Clarke said.